Cebu is one of the most ideal business locations for multinational companies who want to tap the regional market in the Philippines. Given its strategic geographic position, Cebu City is the Visayan economic center offering a rich real estate portfolio of commercial and retail developments.
With the government and private business sector's support, Cebu has established itself as the main economic stronghold in the Visayan region, making it one of the key cities in the Philippines that can accommodate large-scale operations and adapt to their modern technological needs.
Complementing its bustling tourism industry, continuous infrastructure development, and a fresh pool of labor force, Cebu is an ideal option for local and international businesses. It is also one of the top destinations for IT companies, manufacturers, KPOs, and BPOs, recognized as a leading tech hub and a top destination for the call center industry.
RELATED: Choosing the Best Office Location in Cebu City
Why locate your business in a PEZA accredited building?
Even before the pandemic, many foreign companies have been investing in the Philippines for offshoring and outsourcing jobs to cut operational costs and tap a larger market. To encourage more foreign investment, the government provides benefits and incentives to foreign entities through the Philippine Economic Zone Authority (PEZA).
Companies located in IT Parks and special economic zones enjoy a list of incentives and benefits provided by PEZA. These benefits help companies to get the best return on their capital and investments.
Fiscal Incentives
Income Tax Holiday (100% exemption from corporate tax for n number of years)
Tax-free & duty-free importation of capital equipment and raw materials
Exemption from wharfage dues and export tax, impost, or fees
VAT zero-rating of local purchases*
Exemption from payment of all local government imposts, fees, licenses, or taxes
Exemption from expanded withholding tax
* Subject to compliance with requirements
Non-Fiscal Incentives
Simplified Import-Export Procedures
Potential employment for non-resident foreign nationals*
Issuance of Special Non-Immigrant Visa with Multiple Entry Privileges for non-resident foreign nationals
Extended visa facilitation assistance to foreign nationals their spouses and dependents
*Investor/s, officers, and employees in supervisory, technical, or advisory positions, and their spouses and unmarried children below 21 years old
JEG Tower is now PEZA accredited!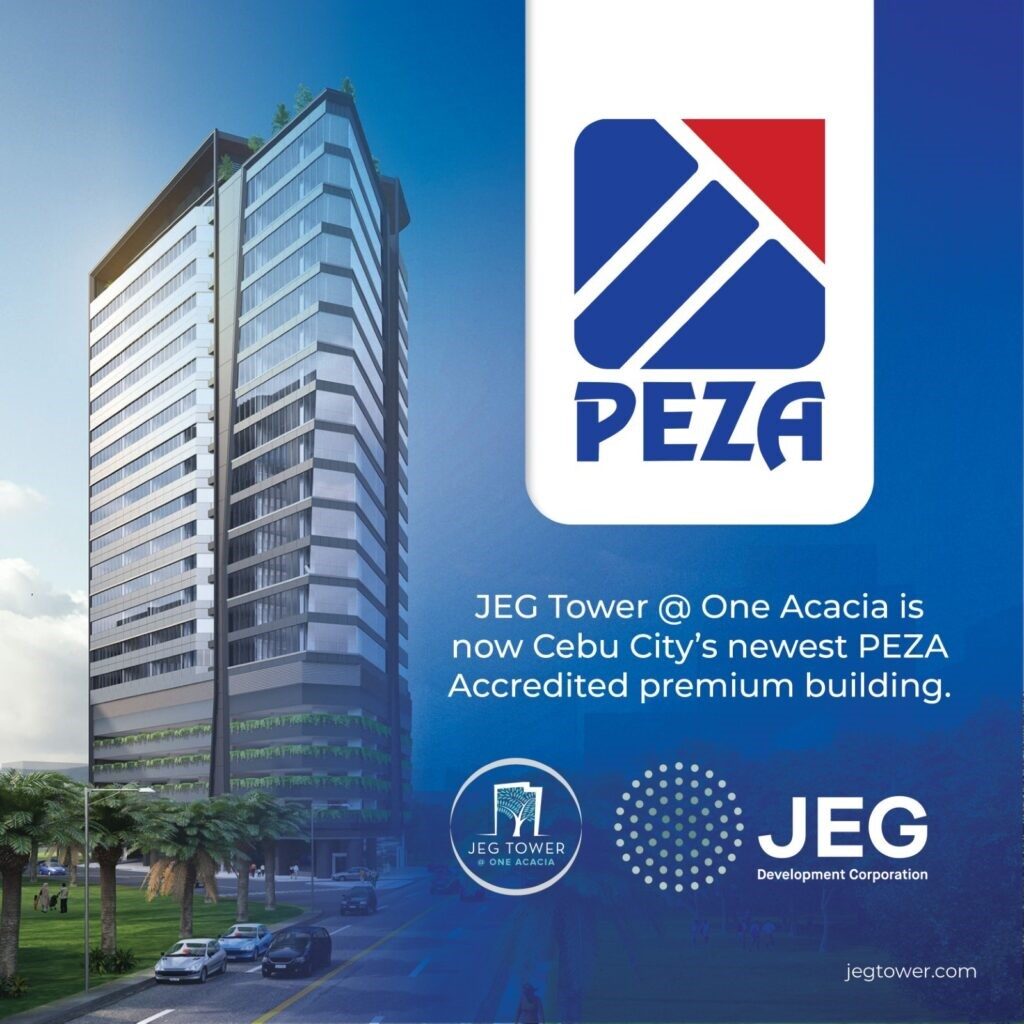 JEG Development Corporation's maiden high-rise commercial development is now Cebu City's newest PEZA Accredited premium building. This 22-storey tower is 2020's Best Commercial Green Development, recognized by the PropertyGuru Philippines Property Awards. It was also shortlisted as the Best Office Development in the same year.
For more information on leasing, contact Lorenzo Rodriguez at (+63) 917-852-6884. You can also send us an email at info@kmcmaggroup.com or reach out to us at (+63) 2-8403-5519.