As part of JEG Development Corporation's commitment to a holistic promotion of health and well-being, the company continues to invest in state-of-the-art technology that ensures the safety and protection of its tenants especially in the new normal.
Designed and constructed with the Cebuanos in mind, JEG Tower @ One Acacia offers more than its green features and amenities that contribute lesser negative impacts to the environment. Named as 2020's Best Commercial Green Development, the 22-storey LEED Pre-certified Silver establishment utilizes one of the top-grade technologies to encourage proper and effective handwashing: the Dyson Airblade.
READ MORE: Pandemic-Proof Workplace: How LEED buildings stand out
The Dyson Airblade is a sensor-operated, touch-free hand dryer that is equipped with the HEPA (high-efficiency particulate air) filtration system that purifies the air that is used to dry hands.
According to the World Green Building Council, green buildings could help in the fight against COVID-19 or any public health emergencies through two key elements: prevention and control.
The Department of Health (DOH) has emphasized that along with wearing face masks and physical distancing, proper hand hygiene remains one of the best defenses against the coronavirus. It also reduces the spread of bacteria and other harmful threats to the environment. This is supported by the Centers for Disease Control and Prevention (CDC), as studies found that the virus can 'stay alive' and be transmitted through surfaces.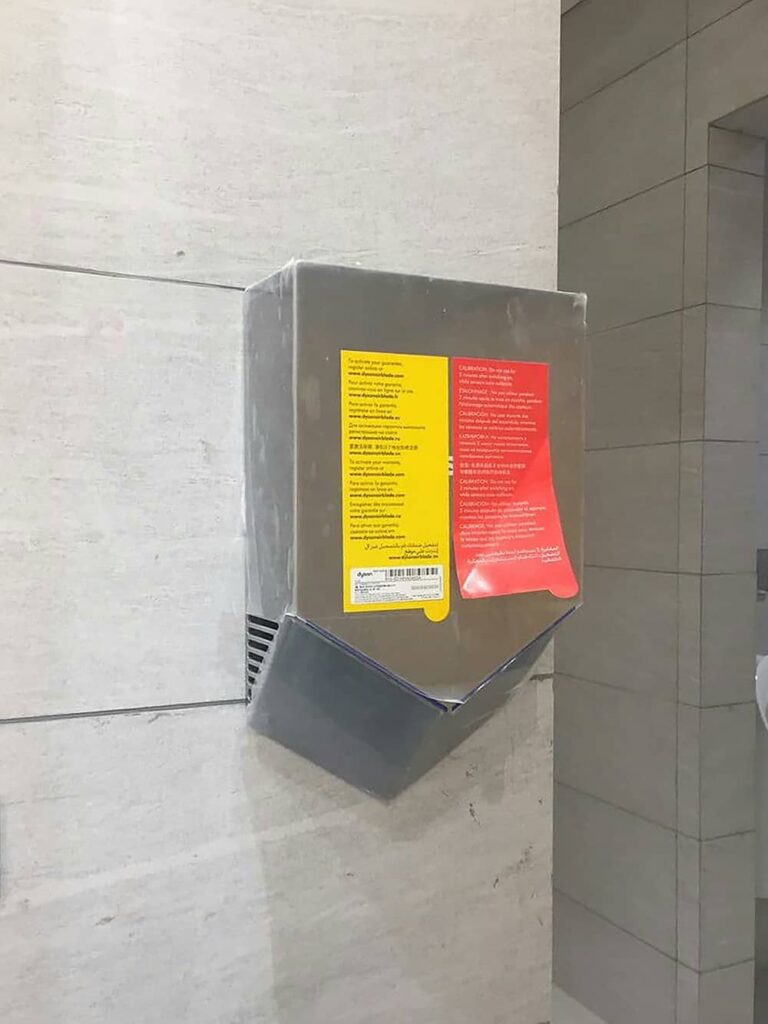 Touch-free Technology
Dyson Airblade utilizes an infrared LED sensor technology that reduces skin to skin contact after washing hands. This touch-free system encourages the most hygienic user experience that is programmed to automatically detect and trigger HEPA purified air for drying.
Studies also show that damp hands can carry and transfer up to 1,000 times more bacteria than dry hands. With a 10-14 second dry time, Dyson Airblade hand dryers can reduce the transmission of bacteria up to 40%.
The Restroom Environment
Research has found that viruses can also thrive in indoor environments with poor air circulation and lower indoor air quality. Dyson Airblade hand dryers are built with HEPA filters that are proven to capture 99.97% of particles, including bacteria and viruses in the air. This helps in minimizing the duration of exposure to any potential infectious materials in any enclosed space.
Lower environmental impact
The Dyson Airblade hand dryers are also aligned with JDC's push for green real estate and sustainability. This technology cuts up carbon dioxide emissions by up to 85% compared to other hand dryers. More than 90% of the hand dryer's emissions come from in-use, meaning a faster drying cycle and less energy used. Energy-efficient hand dryers such as the Dyson Airblade also encourages up to 85% less usage of paper towels which means fewer trees are cut down and used in production.
Want to learn more about this technology? Reach out to Michael Glindro at (+63) 917-584-0443. You may also contact us at (+63) 2-8403-55-19 or info@kmcmaggroup.com.