After a full year in lockdown, Cebu's office market has faced challenges in leasing and vacancy but still saw a few bright spots from January to March of 2021.
KMC data show that while Cebu IT Park and the Cebu Fringe continue to log increasing vacancies, Cebu Business Park has observed movement and absorption as BPO locators continue to choose the Visayan capital as the center of economic activity and ideal area of expansion outside Luzon.
According to KMC's 1Q/2021 Office Briefing, both Cebu IT Park (CITP) and the Cebu Fringe continued to lose tenants, greatly contributing to the recorded 19.2% vacancy rate. Meanwhile, there was a recorded contraction of vacancies in the Cebu Business Park after 16,000 sq m of office space was occupied in the quarter.
Rental rates in CITP and the Cebu Fringe are also on a downward trend as landlords keep up with the increase in vacancies in both areas. On the contrary, office spaces within the Cebu Business Park posted a 0.3% higher rental rate. Average office rental rates in the Cebu Central Business District registered at PHP 577.6 per sq m / month, 2.3% lower than the start of the pandemic a year ago.
DOWNLOAD: KMC Cebu Office Briefing 1Q/2021
Around 117,300 sq m of new office supply is expected to be available before the end of the year. As consequent effects of the COVID-19 pandemic are still felt in the country, short-term demand is forecasted to remain muted and minimal as occupiers fare the new normal. There is, however, a slight improvement in various pre-leasing activities in the Cebu CBD, with the opportunity to occupy fresh spaces at current rates.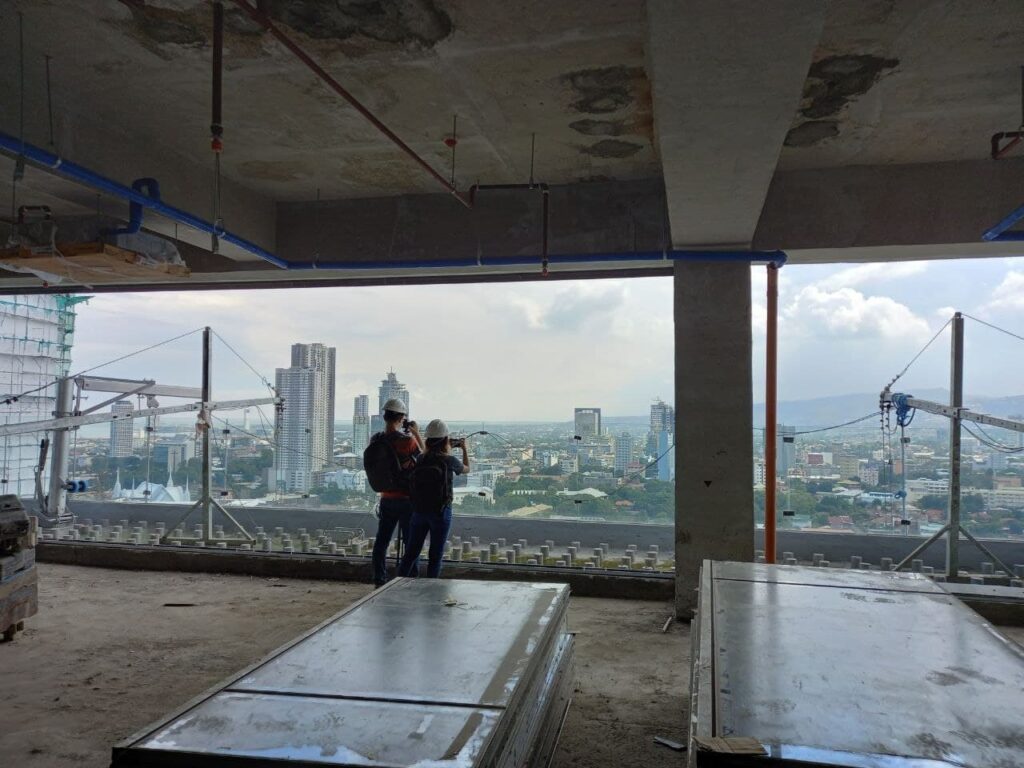 JEG Tower @ One Acacia is one of the office buildings that are expected to come online in 2021. Being one of the newest premium green buildings and PEZA accredited locations in the Cebu district, the 22-storey tower is expected to uplift the commercial pipeline for local businesses and multinational locators in the Visayan epicenter.

Vaccination of 'Economic Workers'
As the local government's vaccination rollout is now open to the A4 priority group (employees reporting to the office), more leasing activity is expected in Cebu City and its business districts in the coming months.
According to the Visayas Vaccination Operations Center (VVOC), a total of 28,661 individuals have already been inoculated with their first dose of the vaccine as of June 10. Of this number, 4,697 have already managed to complete their inoculation schedules.
Mandaue Chamber of Commerce and Industry President Steven Yu said the business community in Cebu is hopeful that the economic revival in the province will come sooner or later as more people are encouraged to get the vaccine.
"As more A4s get vaccinated, they become our role models/ambassadors which convince anti-vaxxers to become pro-vaxxers. As early as a few days ago, we could see a sea wave of change of heart from people, and they are now willing to be vaccinated because more and more of their friends/relatives had been vaccinated," Yu said. "The future looks bright, and we need to ensure that we will have sufficient quantities of vaccines coming in regularly," he added.
Get more relevant, in-depth market insights in Cebu's central business district in the new normal. Reach out to Lorenzo Rodriguez at (+63) 917-852-6884. Send us an email at info@kmcmaggroup.com or reach out to us at (+63) 2-8403-5519 to know more about how you can lease JEG Tower @ One Acacia.