JEG Development Corporation's first green and premier high-rise tower, JEG Tower @ One Acacia is recognized as the Best Commercial Green Development during the 8th Property Guru Philippine Property Awards. The leading sustainable development in Cebu was awarded in the virtual gala last November 25, 2020.
The company is also the first local Cebuano company to win the Best Commercial Green Development award, making the recognition more meaningful as JDC aims to give back to the people of Cebu by providing world-class green features and amenities especially in the post-lockdown business landscape.
As one of the few LEED pre-certified Silver developments in the Visayan region, JEG Tower goes beyond being one of the frontrunners of sustainability and sophistication. This 22-storey office and retail building is a state-of-the-art landmark in the heart of the Cebu Business District pioneered and developed by a homegrown Cebuano developer.
Built from environmentally friendly materials, JEG Tower @ One Acacia is characterized by its energy-efficient features, reduced water usage, and efficient waste management. It is one of the few developments that has allocated recycling space for a Materials Recovery Facility and dedicated 20% of the estate to green spaces, including a unique green rooftop that provides an outdoor space for its occupiers.
JDC Chief Operating Officer Marko Sarmiento expressed that this has been their vision from the start. "We take pride in this recognition as it validates and reinforces our vision to push for a green and sustainable recovery, not just for Cebu but for the whole country," he said.

"We aim to inspire other developers to take the first steps in offering high-quality spaces that make people feel valued and protected. We wanted to elevate the experience of our occupants with sophisticated workplace design, and environment that revolutionizes work and life," he added.
Certain features of the property are focused on protecting public health and well-being, including future workplace wellness initiatives for their occupiers. "Especially with the emergence of COVID-19, we wanted to highlight how important it is to invest in a healthier workplace that uplifts the wellbeing of its tenants," Brand Manager Ayla Gomez said.
Estate Manager Stefan Garcia also noted that the investment they made in pursuing a sustainable, green building is worth it, especially as more Filipinos realize the importance of putting their health and safety first.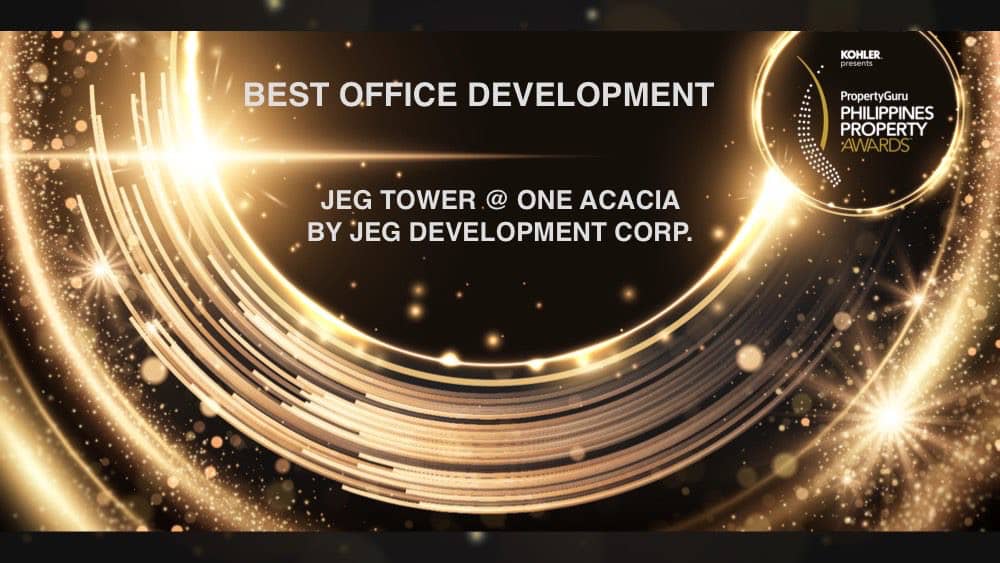 "The pandemic has been an eye-opener for most of us," Garcia mentioned. "Going back to our vision of revolutionizing work and life, JEG Tower @ One Acacia will open its doors to companies who put a premium on their employees' welfare."
PropertyGuru Philippines Property Awards recognizes the country's frontrunners in the real estate industry. It covers a wide range of accolades that feature the best in sustainable real estate, design, and architecture in the country.