It has been a year since the start of COVID-19 pandemic started and changed the dynamics of how people work and urban mobility. Many industries including design and construction have been affected and were forced to adopt new practices to ensure smoother and safer operations.
Holding meetings face-to-face to discuss the project and process of construction and actual site visits for easier progress monitoring used to be the norm. As most processes shifted online, it is important to note some of the changes that were implemented in consideration of public health and well-being.
Safety and Health Protocols
Apart from risk and hazard reduction measures strictly implemented on-site, safety and health protocols are now being factored in accordance with government directives. Many have turned to prefabrication to minimize the number of personnel or individuals present on site.
Most developers or property owners revisited the components of their developments. Air purification has been a big point of concern in most shared spaces like the office. Employing the use of HVAC systems and MERV filters in these spaces became the additional and proven layers of protection against the virus.
RELATED: MERV 13 Filters: Are they worth the investment?
The focus on health and wellness also urged more manufacturers to source for ways to have anti-microbial laminated surfaces. According to reports, using quartz and copper can also be useful for its microbes-repelling properties.
Contact tracing measures have also taken shape and are made accessible by scanning a QR code for a more touchless experience. This often leads to a health declaration form that ensures all individuals entering and exiting the premises are documented.
Advanced Technology
Automation has been a staple in designing workplaces and their facilities. Voice or motion-activated technology in office spaces and common areas such as elevators, copy rooms, restrooms, and meeting rooms can make for an environment that is safer to occupy.
This is why future-forward commercial establishments such as JEG Tower @ One Acacia are moving to leverage this technology to provide a smart and healthy workplace for their tenants and occupiers.
Placing contactless features through sensors in entryways and crowd-controlling systems in elevators have been useful considerations even in office and commercial towers due to the considerable foot traffic. Its Destination Oriented Allocation System (DOAS) elevators minimize contact and prevent probable cases of contamination. Long-range temperature scanners are also stationed in all entry points to ensure the physical fitness of all employees and guests.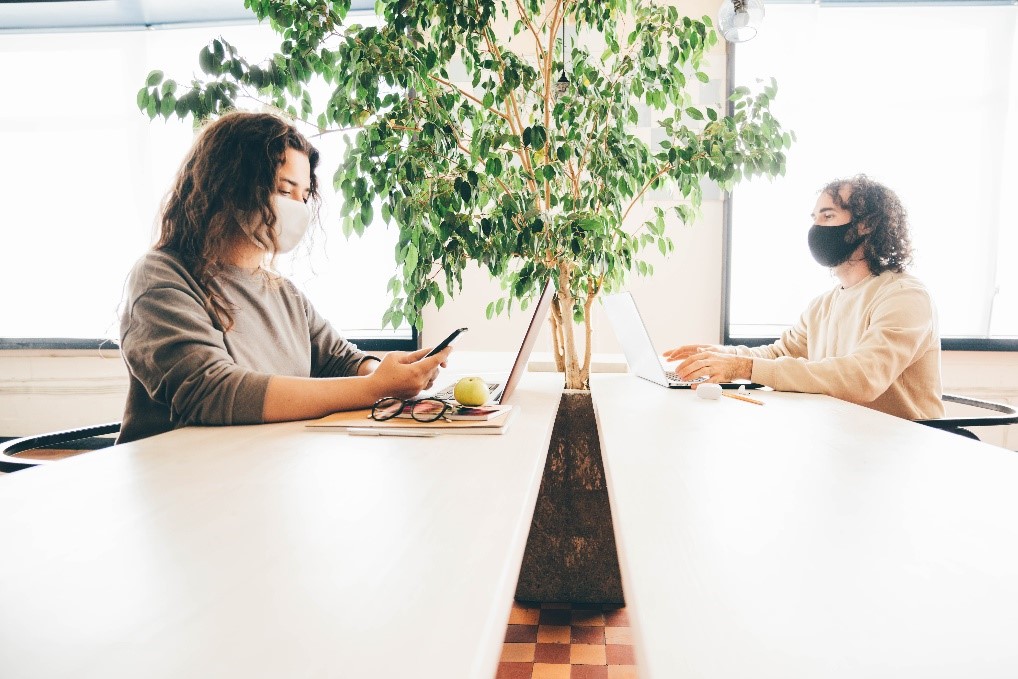 Sustainability and Green Features
To ensure employees' health and wellness, the adoption of biophilic design and other green features when constructing buildings has been remarkable. Apart from the physical implications brought by the pandemic, more businesses are focusing on maintaining the stability of employees' mental health.
Biophilic designed offices maximize the use of natural light and allow for better air quality that helps people to have higher cognitive performance. It also provides spaces that give access to better ventilation and an option of going outdoors without the risk of contracting the virus.
Premium-grade office developments such as JEG Tower @ One Acacia is one of the few estates that takes it a notch higher through its pioneering green roof—a relaxing space that features local flora and fauna that is made accessible to all occupants of their building.
The future of revolutionizing work and life balance has evolved beyond just aesthetically pleasing design. It is now inclusive of safeguarding the people who will be occupying and benefiting from this healthier and sustainable shift.
Want to learn more about JEG Tower @ One Acacia? Contact Lorenzo Rodriguez at (+63) 917-825-6884. For inquiries and more information, call us at (+63) 2-8403-5519 or send an email to info@kmcmaggroup.com.