As the term "sustainability" became a more encompassing concept across different industries, more businesses are shifting and adapting to principles to achieve and practice it. According to the Alliance for Sustainable Built Environments, businesses and organizations that follow these principles and approaches create long-term value by embracing opportunities and managing risks derived from changes in economic, environmental, and social factors.
What is Sustainability in Real Estate Developments?
Sustainable or "green" developments are buildings and establishments that were designed and constructed to uplift the conservation and protection of the environment, hand in hand with the promotion of health and well-being in any commercial or residential property.
According to the World Green Building Council, a structure is considered 'green' when its design, construction, and operation reduce or eliminate negative impacts and in turn create positive effects to the environment and to the wellness of its occupants and the community. This organization has developed the Leadership in Energy and Environmental Design or LEED certification, that aims to be a benchmark for sustainability and eco-friendliness. LEED Certification points are awarded to projects based on numerous sustainability factors and categories, which are used to get a composite score for the project.
RELATED: Employees working in LEED-certified buildings are Happier, Healthier, and More Productive
A study by the Asian Development Bank has found that there is an uptrend of 'green and sustainable' businesses in the region as more recognize the 'serious threats to human health, environmental quality, and natural resources from the pursuit of economic growth.'
In the Philippines, a shift towards sustainability was even more emphasized as the country battle the COVID-19 pandemic. Issues such as the lack of healthy public spaces were placed under the spotlight as modifications are being refined to transition to a new and better normal.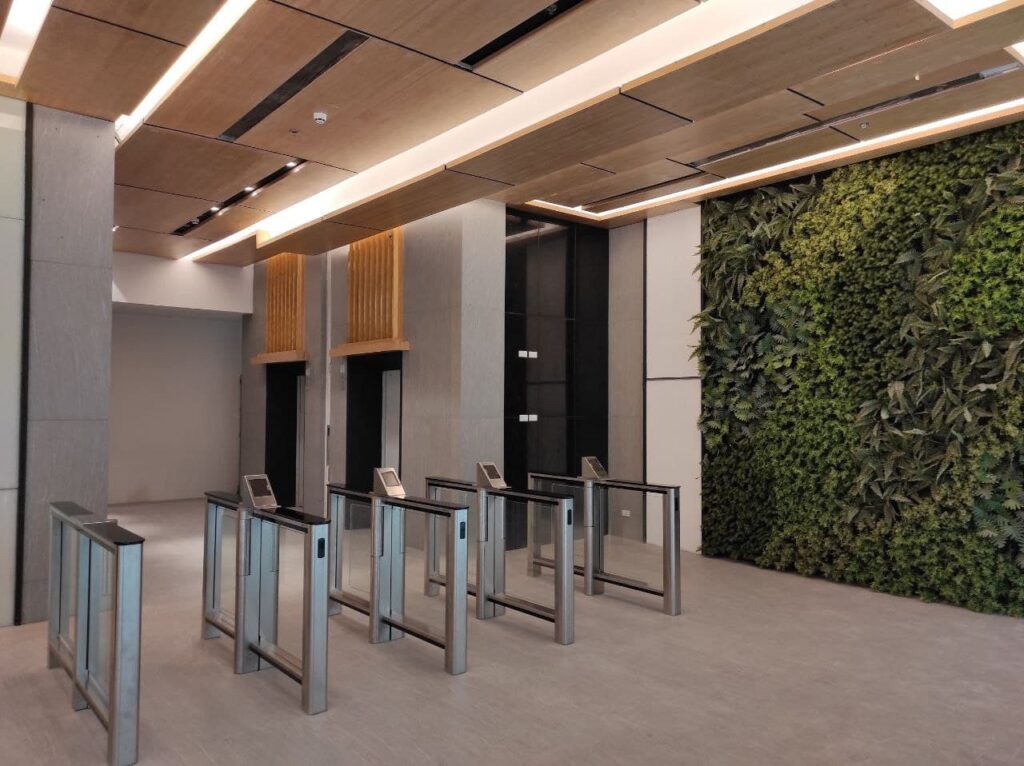 Benefits of Going Green
Green buildings offer more benefits to businesses in terms of economical or financial, environmental, and social aspects.
Green buildings provide economic advantages to businesses through lower construction costs, higher property value, greater utility savings, and lower operating costs for its tenants and occupants. Sustainable developments utilize locally available raw materials and resources that reduce transportation and logistical costs for construction materials. Moreover, green buildings are proven to reduce energy consumption by 23% and ensure efficient electricity and water usage throughout the whole building.
Sustainable developments and LEED-certified buildings, such as JEG Tower @ One Acacia becomes the new standard for office and commercial properties in the Philippines. This 22-storey building was recognized by the PropertyGuru Property Awards and named it the Best Green Commercial Development in the Philippines.
READ MORE: JEG Tower @ One Acacia wins Best Commercial Green Development
Designed and constructed to be a safe environment and a premium space for Cebuanos even before the pandemic, JEG Tower offers the perfect new normal workplace in the Visayan capital.
In the new normal community and building-based prevention and control measures have become one of the most important methods of fighting against the epidemic. As cities start to reopen their economies and people return to work, green buildings have become a standard for many companies and businesses. A building's green features became a leverage for commercial developments for the benefits it extends for the health of its tenants and for the prevention of future disease outbreaks.
Want to learn more about how JEG Tower @ One Acacia promotes sustainability in the Philippines? Reach out to Lorenzo Rodriguez at (+63)-917-825 6884. For listing inquiries and more information, call us at (+63) 2-8403-5519 or send an email to info@kmcmaggroup.com.