Even before the pandemic, JEG Tower @ One Acacia aimed to offer the best workplace in Cebu City. As businesses are more open to going back to the office, this 22-storey premium office building has focused on pivoting the evolving needs of the workplace in the post-lockdown business landscape.
Through the intelligent utilization of technology, sustainable design and construction methods, and integrated and holistic approach to the well-being of its occupiers, JEG Tower @ One Acacia is the perfect new normal workplace in the heart of Metro Cebu.
Defined by the World Health Organization (WHO), a healthy post-pandemic workplace should be a balance of occupational health and safety, as well as health promotion efforts and initiatives. According to the international health agency, "a healthy workplace is one in which workers and managers collaborate to use a continual improvement process to protect and promote the health, safety, and well-being of workers and the sustainability of the workplace by considering the following, based on identified needs."
RELATED: Qualities of a Great Office: Why JEG Tower @ One Acacia is the Best Workplace in Cebu
Optimal Indoor Air Quality & Contactless Technology
JEG Tower @ One Acacia utilizes the MERV-13 air filters and Fresh Air System for optimal indoor air quality. The Minimum Efficiency Reporting Values or MERV filters that can capture particles in the air from 0.3 and 10 microns (µm). Higher value in MERV ratings leads to better filtration, fewer dust particles, and other airborne contaminants. The tower's MERV13 filter is one of the highest-grade filters in the industry that promotes an ideal indoor environment and eliminates the growth of bacteria, mold, mildew, or fungi.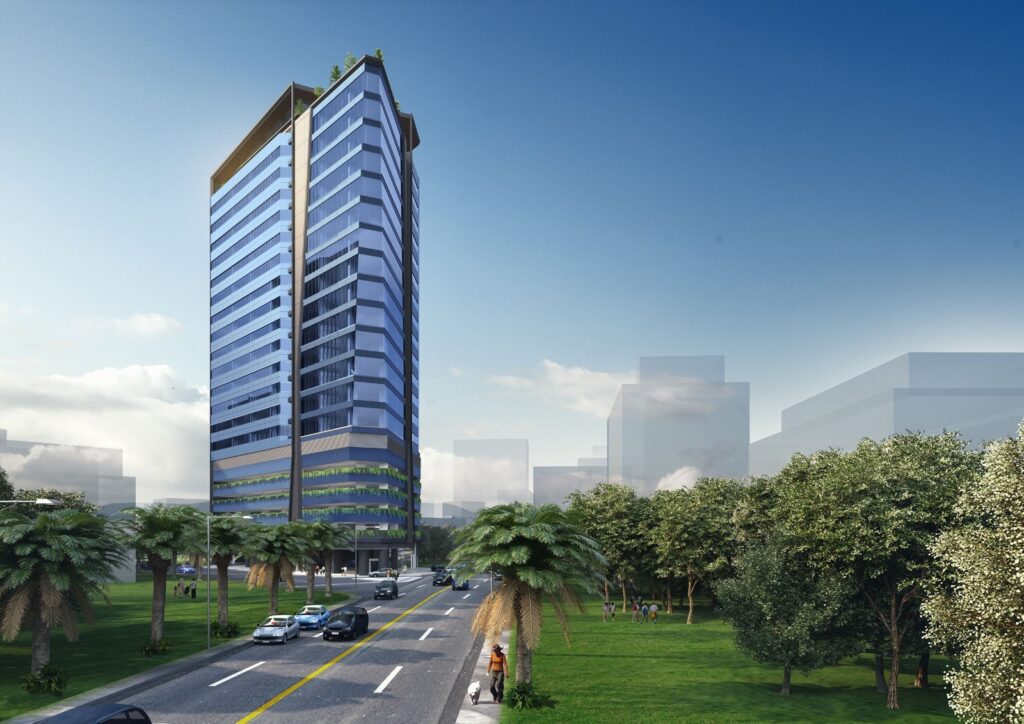 The tower also uses the Fresh Air System that ensures the comfort of its tenants. According to the Environment Protection Agency (EPA), building occupants with little or no access to fresh air end up being more exposed to pollutants indoors compared to when they go outdoors. HVAC systems tend to circulate and recycle old air rather than drawing new and fresh air from the outside.
READ MORE: JEG Tower Focus: MERV and Fresh Air System for Optimal Indoor Air Quality
To address one of the most common health and safety concerns in common spaces, JEG Tower @ One Acacia has also integrated contactless and smart technology in all office floors and common areas in the building. Automatic sliding doors have been installed in the main entrance for touchless access. Motion-sensor bathroom fixtures are also made available for tenants to limit contact to surfaces in public areas.
JEG Tower also has stationed hands-free standing and desk temperature scanners to ensure the fitness of each employee or guest entering the premises.
The Destination-Oriented Assignment System (DOAS) elevators do not only manage crowds and limit contact, boost building security, but also assist in easier tracing or monitoring of foot traffic in the building. It is also one of the tower's unique green and sustainable features as part of its pledge to sustainability and green real estate in Cebu.
Advocates of Holistic Health and Employee Well-being
JEG Tower in Cebu uplifts the health and wellness of its tenants. Committed to revolutionizing work and life balance, the building has designed office spaces to maximize the use of natural daylight, allow better indoor air quality in all work and common spaces, and organize initiatives to encourage healthier living for everyone.
Named as 2020's Best Green Commercial Development in the Philippines, JEG Tower @ One Acacia is committed to providing a workplace that addresses the physiological, mental, and social needs of its employees and occupants.
By following global standards and optimizing building design and operations, it is one of the most ideal locations to work in Cebu City. JEG Tower puts a premium on its tenants' health while practicing sustainability and energy efficiency.
Locate your business in Cebu City's newest premium green building. Contact Lorenzo Martin E. Rodriguez at (+63) 917-825–6884. For leasing inquiries and more information, call us at (+63) 2-8403-5519 or send an email to info@kmcmaggroup.com.