CEBU CITY, Philippines, April 21, 2022 – Cebu-based real estate developer JEG Development Corporation (JDC) has finally launched JEG Tower @ One Acacia, the pioneer green, LEED Gold certified 22-storey office and retail high-rise development in Cebu City. JEG Tower @ One Acacia is JDC's first venture into high-rise buildings.
JDC has always envisioned JEG Tower @ One Acacia to be a frontrunner in redefining the property industry in the Philippines by uplifting the lives and communities of Cebuanos, with a heightened priority on sustainability, holistic health, and employee well-being.
"JEG Tower @ One Acacia is characterized by its energy-efficient features, reduced water usage, and efficient waste management. It is set to become Cebu's first commercial development to use solar energy, as we have entered into a 20-year power purchase agreement with COREnergy for a zero cash-out solar photovoltaic plant," said Marko Sarmiento, JDC's Chief Operating Officer.
Beyond showcasing a seamless fusion of sustainability and sophistication, JEG Tower @ One Acacia ultimately aims to revolutionize work-life balance, putting a premium on the welfare of tenants, employees, and the people of Cebu.
As businesses are more open to going back to the office, JDC has focused on addressing the evolving needs of the workplace, especially in the post-lockdown work landscape where hybrid work arrangements are considered the "new normal."
"JEG Tower @ One Acacia is committed to providing the best workplace that addresses the physiological, mental, and social needs of its employees and occupants. We continuously invest in the quality of the work environment, as well as the health and well-being of our tenants, in a bid to help our tenants achieve increased productivity," said Sarmiento.
With offices designed to integrate sustainability and sophistication, employees can enjoy green features, such as the use of natural daylight, optimal indoor air quality, and the roof deck garden, that all together provide greater support for employees to their psychosocial needs.
JEG Tower @ One Acacia features a green roof that can help reduce stress and encourage socialization, positively impacting the wellness of employees. These spaces will allow for relaxing midday breaks and can be a venue for wellness activities or social gatherings.
The roof deck's endemic flora can also help bolster humidity levels to the 30%–60% range required for human health. The biophilic design of workspaces inside green buildings incorporates ecological aspects that minimize stress levels, reduce mental fatigue, and elevate moods.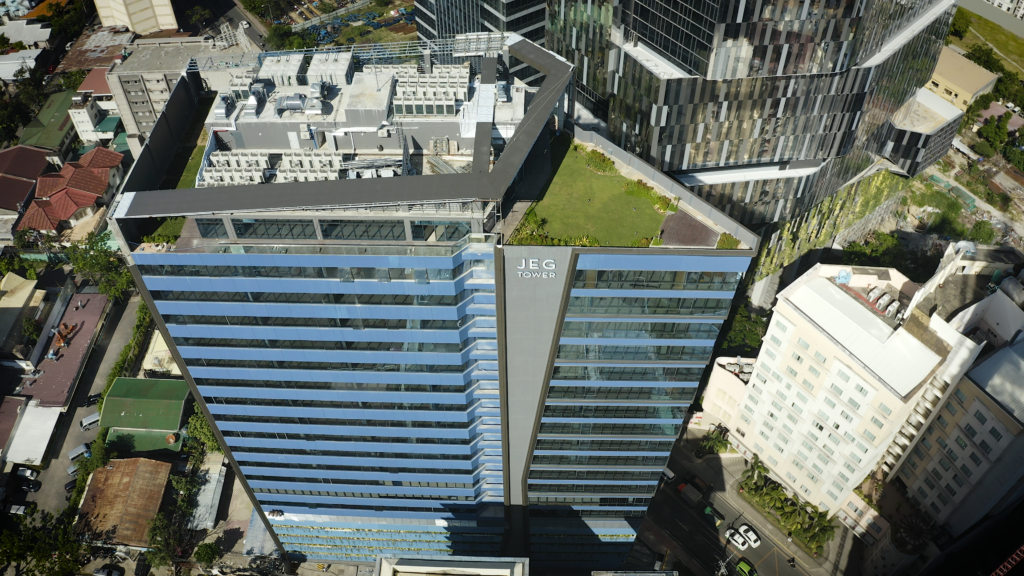 "We've integrated intelligent technology into the building, utilizing thermal scanners, and automatic sliding doors have been installed in the main entrance. In place of manual contact tracing efforts, employees will use the free-standing scanners by the main entry point, while guests must get their temperature through a tabletop scanner available in the reception area," explained Ayla Gomez, JDC's Brand Manager.
Understanding the risk of infection in common areas, JEG Tower @ One Acacia added anti-bacterial fixtures and above standards filtration to minimize risks. MERV filtration has been installed to complement its energy-efficient heat, ventilation, and air conditioning system to improve indoor air quality and sanitation.
"Another unique sustainability feature that makes JEG Tower @ Acacia stand out is its Mitsubishi Destination-Oriented Allocation System (DOAS) elevators. DOAS elevators are developed to ensure strategic and safe movement within the vertical development, with innovative technology designed to utilize less energy consumption," Sarmiento asserted.
With these eco-friendly features, JEG Tower @ Acacia earned a LEED Gold Certification from the US Green Building Council in 2021. The development was awarded 68 points, making it the highest-scoring LEED for Core and Shell project in Cebu.
Moreover, JEG Tower @ One Acacia also celebrates its Cebuano roots by showcasing the skills and expertise of homegrown businesses and industries–turning the space into a portfolio of Cebuano talents and heritage.
"We aim to support local players in the industry, which is why we have collaborated with local suppliers, consultants, and vendors in completing construction," said Gomez.
"With this new development, we want to inspire other developers here in Cebu City to take the first steps in offering green, high-quality, and future-proof spaces that make people feel valued and protected," added Sarmiento.